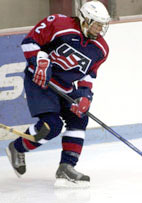 About sticking to the goals she set for herself:
Tara Mounsey
The Short List
Member of the 2002 U.S. Olympic Team in women's ice hockey
Member of Team USA's gold medal team at 1998 Olympics
2-time member of Team USA at IIHF Women's World Championships (1997, 1999)
Member of the U.S. Women's Select Team that captured the silver medal at the 1996 IIHF Pacific Women's Championship (earned Outstanding Performance Award)
Did You Know?
Recorded at least one point in five of the six games at the 1998 Olympics.
Missed the 2000 IIHF World Championships with a serious knee injury.
Became the first girl player to win the New Hampshire (Class L) Player of the Year award, after leading Concord (N.H.) High School to the 1996 state championship.
Played collegiately at Brown University where she was named one of 10 candidates in 1999 and one of four finalists in 2000 for The Patty Kazmaier Memorial Award, presented annually to the top women's intercollegiate varsity ice hockey player in the nation.
It's Every Day Excelling at full contact hockey with boys throughout her life honed Mounsey's skills and toughness. As a result, she is now widely considered to be one of the best offensive defensewoman in the hockey world today.