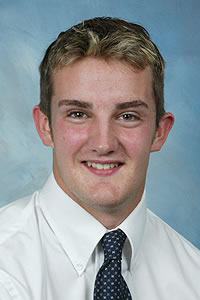 8
Tim Reidy (A)
Senior • Forward
5-7 • 170 • 7/15/1981
Shrewsbury, Mass.
Valley Junior Warriors

2002-2003: Played in every game for the Warriors...Led team with five power-play goals...Assisted on game-winning goal against Boston University (Oct. 22)...Scored goals versus Union (Oct. 13), Dartmouth (Nov. 3), Boston University (Nov. 9), Providence (Nov. 22 & 23), Rensselaer (Dec. 28), and Maine (Feb. 9)...Also had single assists in eight other contests.
2001-2002: Played in 34 games...Ice time increased as season progressed...Came up with a pair of goals and four assists... First collegiate goal came against Niagara (Nov. 17)... Notched an assist on game-winning goal against Niagara the previous night (Nov. 16)... Scored a goal against Maine (Jan. 19)...Picked up assists against Boston University (Feb. 1), Northeastern (Feb. 8), and UMass (Mar. 3).
2000-2001: Played in 12 games...Worked way into the lineup at the end of the season, playing in three of the last four games.
High School/Last Team: Captain of St. John's Shrewsbury...Won the 1999 Division 1 State Championship...Catholic Conference All-Star...Telegram and Gazette All-Star...Hockey Night in Boston All-Star.
Tim Reidy: Career Statistics
           OVERALL                      HOCKEY EAST
YEAR       GP   G   A  PTS  PEN/MIN ||   GP   G   A  PTS  PEN/MIN
2000-2001  12   0   0    0    3/6   ||    9   0   0    0    3/6
2001-2002  34   2   4    6   10/31  ||   22   1   3    4    4/8
2002-2003  36   7   9   16   11/22  ||   24   4   5    9    9/18
-----------------------------------------------------------------
TOTALS     82   9  13   22   24/59  ||   55   5   8   13   16/32