The Minuteman Lady Flames is one of the premiere competitive girl's ice hockey programs in the Northeast. Based out of New England Sports Center in Marlborough, MA, the Lady Flames organization offers an outstanding program in one of the finest hockey facilities in the country.

Our program began in 2001 in an effort to provide a highly competitive level of hockey for girls at the u10 through u19 age groups. The goals of the program have always been to develop young women with character, self-confidence, and leadership skills. This is accomplished through a fun, yet highly challenging environment where the girls learn that hard work, discipline, teamwork and loyal friendships are just a few of the life lessons taught by the great game of hockey. Our athletes face their academics and other opportunities with the same tenacity as they do hockey, and find success both on and off the ice.

The program participates in many local, regional and national tournaments. Throughout the year, and at the various tournaments the girls are exposed to scouts for both the prep/private high schools and colleges.

The Lady Flames offers teams at the U10, U11, U12, U13, U14, U16 and U19 levels. In addition, the Lady Flames supports new skaters through the Cross Ice/Learn To Play Hockey Program.

Practices are held at New England Sports Center, and offer consistent practice days and times for each team. The program runs from Labor Day through early April. Generally, tryouts are held at the end of March.

If you are looking for a top notch program and nurturing environment, check out the Minuteman Lady Flames.

The Lady Flames General Manager, Garry Holmes, can be contacted at gholmes@rwholmes.com, 508-460-1489 (home), or 508-651-9020 (work). The coaching staff and their contact information can be found on the Coaches Page.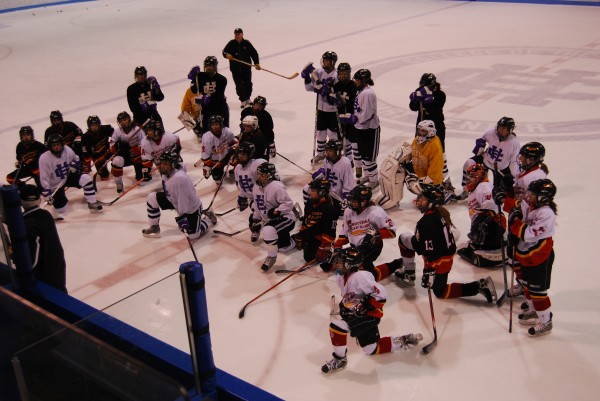 Lady Flames practice with Holy Cross women's varsity

2008 Connecticut Polar Bear Tournament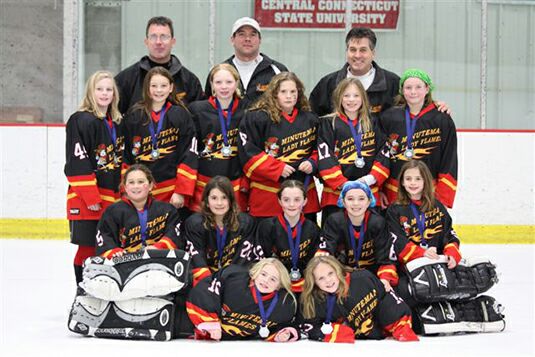 10U Flames Take 2nd at CT Tourney

Congratulations to the Minuteman Lady Flames for a fine showing at the prestigious Polar Bear Tournament recently held in Connecticut

2005 Connecticut Polar Bear Tournament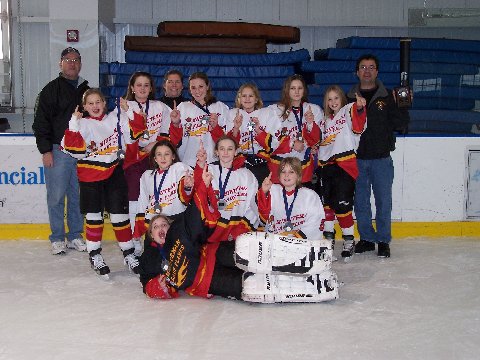 12U Lady Flames - Division 12A Champions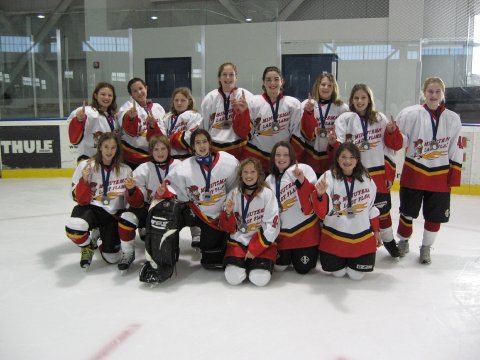 11U Lady Flames - Division 12B Champions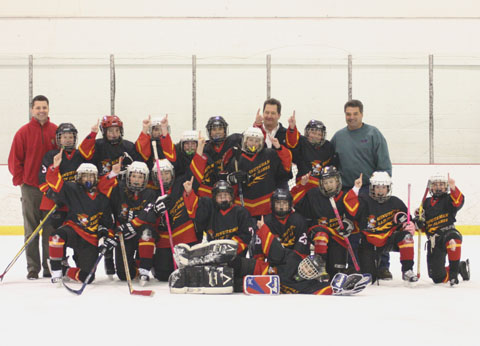 10U Lady Flames - Division 10AA Champions